Customize a free gift certificate template online with our gift certificate maker in under 2 minutes! Print or save on your computer. No need to download any software or register.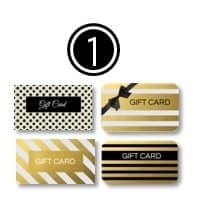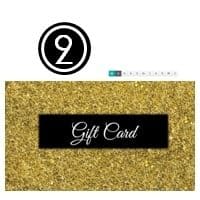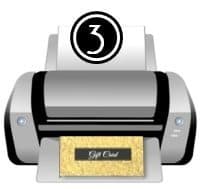 Choose Template
Customize Online
Print at Home
Choose a template from our huge selection.
Use our free online gift certificate maker to customize the template.
Download the customized gift certificate template and print at home.








Why use our gift certificate templates?
101 different designs;
100% free;
No need to download software or register;
Takes under 2 minutes to customize and print;
Customize the text and/or add your own personal message;
Add your own photo or logo;
Personal or commercial use (add your logo to create a professional look);
No limit to number of certificates – create as many as you want!;
Can be downloaded as a PDF document or an image file (png format);
We offer both generic gift cards and printable gift certificates for specific businesses (spa, hair salon, bakery, nail salon) but all gift certificates can be customized for any business.
How to customize the gift certificate templates?
Click on "customize" and our free gift certificate  maker will open. The process is pretty self-explanatory. Chances are you won't need an explanation. If you still have a question then read the general instructions below or the more detailed FAQ.
How to customize the text?
Choose the template that you want to use. They are all free!
Click on "customize".
Double click on the text that you would like to customize.
Type the text that you want to appear.
Repeat the last two steps until you have customized all of the text.
If you would like to add any additional text then click "add text". You can then drag the text to wherever you want it to appear.
You can also move the text around if you so desire.
Click on "print" or download the file to your computer. It can be downloaded as an image or a PDF file. If you don't have a PDF viewer then you can get one here.
How to style the text
You can use the text as is but you can also change the style, size and color.
In order to make changes, click on the text that you would like to change.
Use the self-explanatory icons to make the necessary changes.
How to add a logo or picture
If the gift certificates are going to be used by a company then you might want to add your company logo.  Click on the "image" tab and upload the company logo. Drag it around until you place it wherever you want it to appear. If you need to make the image smaller then click on the bottom right corner and drag it to the left. You can enlarge the image by clicking on the bottom right corner and dragging it to the right.
For more detailed instructions see our FAQ
How do you print a blank gift certificate?
If you want to print a blank gift certificate template or a blank voucher template then click on "customize" to open the gift certificate maker. Erase all of the text by clicking on the little X on the bottom right corner of each text box. Once all of the text has been erased you can either print or download the blank certificate template.
What is the difference between a gift card, a gift certificate and a gift voucher?
A gift card issued by a retailer is a prepaid card that can be redeemable for purchases at that specific retailer. A gift card issued by a credit card company (such as Visa or MasterCard) can often be redeemed at various retailers or even cashed out.
A gift certificate is a termed used in North America whereas the term gift voucher is used in the UK.
If you are looking for a gift voucher template or a gift card template you can still use any of the templates on this site. Click on "customize" to open our free gift certificate maker and change the text to "gift voucher" or "gift card" or whatever term you prefer to use.
Why Use Gift Certificates or Gift Cards?
For consumers, a gift certificate is the perfect solution for someone who has everything or if you are not sure what to buy.
For businesses, gift certificates are a great way to increase your sales especially during the holiday season. An additional benefit is that the gift cards are paid for in advance which is perfect for your cash flow.
Advantages of Gift Certificates for Businesses:
Gift certificates increase your sales and cash flow;
At least 10% of the gift cards are not actually redeemed. In fact, most businesses report a higher percentage of unredeemed gift cards;
You can add your company logo to any of the gift certificate templates on this site. In addition to creating a more professional look this will help to increase brand awareness.
See 10 ways to increase sales with gift certificates / gift cards
Should you use printed gift certificates or electronic gift cards?
For smaller businesses a printed gift certificate is often easier. Electronic gift cards require a special system to read, track and process the gift cards.
On the other hand, a larger business will probably not be able to track printed gift certificates and might need an electronic system.
Our free gift certificate maker enables you to create custom gift certificates personalized for the customer. The customer can also add a personal message to the gift certificate if you print it after purchased and not sell preprinted gift cards.